This
article
originally appeared on M. Stephen Doggett, PHD's LinkedIn page. This flanged window installation is fairly typical for an integrated WRB panel. But it is highly vulnerable to water intrusion due to its inherent reliance on tape adhesion at panel joints and head flashing. The first image illustrates the primary components and their installation sequence: 1) WRB panel; 2) panel joint treatment; 3) flex wrap at rough sill; 4) flanged window (sealant applied at inside face of nailing flange); 5) tape at window jamb flanges; and 6) tape at window head flange. The vulnerability occurs at interfaces between the head flange, head tape, and vertical panel tape. Water intrusion is certain should even small fish-mouths occur at any point along the vertical panel joint (image 2). Likewise, unsealed tape edges at head flashing may also guide water against the top flange (image 3). Water management now depends on the continuity of the applied sealant at the inside face of the nailing flange – an extremely common failure mechanism. It should also be noted that nailing flanges are rarely perfectly flat as the corners often bow outward when adjacent surfaces are compressed by fasteners. Once water enters the rough opening, it moves downward along the jamb and even beneath the sill wrap (image 4).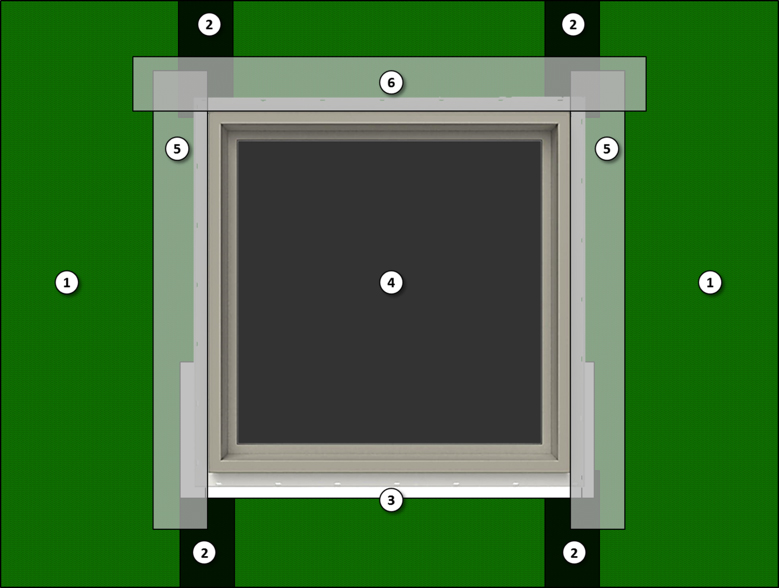 About M. Steven Doggett, PHD
We at Performance Pro Supply are big fans of the work of M. Steven Doggett, Ph.D., LEED AP.  The founder and Principal Scientist of Built Environments, Inc., Dr. Doggett has over 20 years of experience with environmental consulting, building forensics and building envelope design. Though his expertise centers on moisture control, he also regularly consults on hygrothermal (heated water) performance, indoor air quality, and improved building service life.